Community Supported Agriculture
Sign up to receive weekly produce bags from our garden including recipes, healthy tips and inspiration
The CSA model creates a direct connection between farmers and eaters. Participants pay at the beginning of the season and then receive a weekly share of the harvest in the form of veggie baskets.
This model allows the farm to have cashflow to buy seeds and supplies. In return, the farm harvests "the cream of the crop" for members and delivers it each week. A CSA implies a direct contract between the producer and the consumer or called "community supported agriculture". 
a weekly selection of 6-8 veggies depending on the size of the basket
For a duration of 30 weeks, from early April to mid-November. Including a two-week break the first two weeks of August.
Small basket (2-3 people) – CHF 25 per basket per week Large basket (4-6 people) – CHF 35 per basket per week
To participate in our CSA box program, you agree to two half-days of work in the garden per season. If you cannot participate for whatever reason, we charge CHF 90 per half-day that you cannot work. More details below.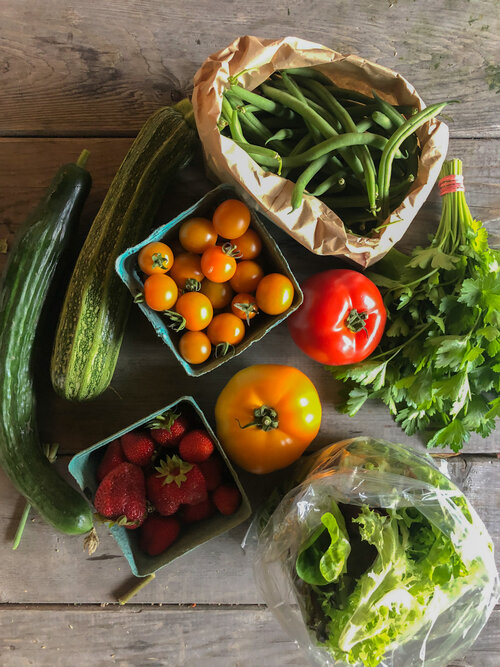 Friday at the farm – make your own basket. You will have a sign explaining what is to be picked up for your choice of basket and you can do it yourself. 
Subscribers are asked to contribute 2 half-days of work per year, per subscription. This small contribution from vegetable eaters is greatly appreciated by both members and farmers. These moments of sharing are very useful and children are welcome to put their hands in the soil and help out. At least one of the two half-days must be completed before the end of July as a lot of the work takes place in the early summer months. Each half day of work not completed will be charged 90 SFr.
All help is welcome, even outside the recommended half days!
Here are the frequently asked questions around the CSA program. If your question isn't answered below, please reach out.
Interested in joining our CSA program?
Ready to become a member of the farm and nourish those around your table.